1st: Know that Graphene OS only works on the Google Pixels.
2nd: Get Privacy Freedom does not currently sell Pixel 7's because Pixel 6's flagship phone is very similar thus provides biggest "bang" for your buck. Pixel 6 was a full model hardware and body change, whilst the Pixel 7 just got a set of new wheels.  Please make inquiry if still desire a Pixel 7 and it will be ordered NEW and then deGoogled.
3rd: Pixel 6's and 7's are fairly larger phones.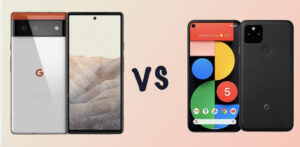 If you like the smaller sub-sixes then the Pixel 5 still has a few years of support. Also, 3 years is the average lifespan of a phone battery upon normal use and most users upgrade within 3 years.
So there you have it, short, sweet, and to the point. Hope this helps!
If you want to know more about the different Operating Systems, then check out this blog: https://getprivacyfreedom.me/degoogled-phone-operating-systems/
The below recommendations are from Graphene OS website:
"We strongly recommend only purchasing one of the following devices for GrapheneOS due to better security and a minimum 5 year guarantee from launch for full security updates and other improvements:
Pixel 7 Pro
Pixel 7
Pixel 6a
Pixel 6 Pro
Pixel 6
Newer devices have more of their 5 year minimum guarantee remaining but the actual support time may be longer than the minimum guarantee.
The Pixel 7 and Pixel 7 Pro are all around improvements over the Pixel 6 and Pixel 6 Pro with a significantly better GPU and cellular radio along with an incremental CPU upgrade. The 7th generation Pixels are far more similar to the previous generation than any prior Pixels.
The Pixel 6 and Pixel 6 Pro are flagship phones with much nicer hardware than previous generation devices (cameras, CPU, GPU, display, battery).
The cheaper Pixel 6 has extremely competitive pricing for the flagship level hardware especially with the guaranteed long term support. Pixel 6 Pro has 50% more memory (12GB instead of 8GB), a higher end screen, a 3rd rear camera with 4x optical zoom and a higher end front camera. Both devices have the same SoC (CPU, GPU, etc.) and the same main + ultrawide rear cameras. The Pixel 6 is quite large and the Pixel 6 Pro is larger.
The Pixel 6a is a budget device with the same 5 years of guaranteed full security support from launch as the flagship 6th generation Pixels. It also has the same flagship SoC as the higher end devices, the same main rear and front cameras as the Pixel 5 and a rear wide angle lens matching the flagship 6th generation Pixels. Compared to the 5th generation Pixels, it has 5 years of full security support remaining instead of less than 2 years and the CPU is 2x faster. We strongly recommend buying the Pixel 6a rather than trying to get a deal with older generation devices. You'll be able to use the Pixel 6a much longer before it needs to be replaced due to lack of support."
You can get DeGoogled Phones HERE.
God Bless